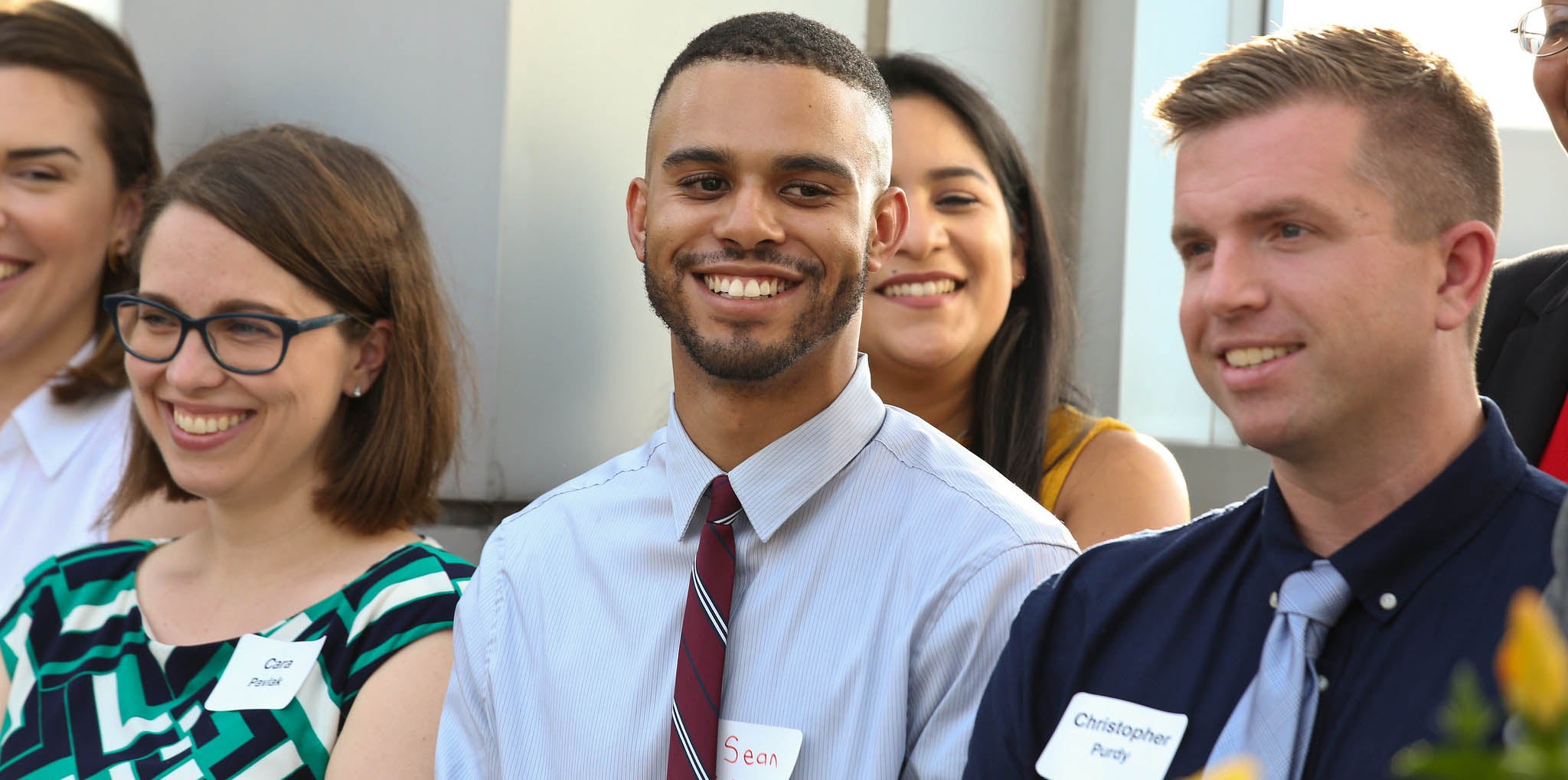 Members of he 2019 class of LBJ DC Fellows is introduced at the Dean's Annual DC Alumni Reception in August.

Left to right: Emma Nye, Cara Pavlak, Sean Walker, Christopher Purdy. Back row: Sara Plasencia.
The fourth cohort of students from the LBJ School of Public Affairs DC Concentration graduated on Saturday, Dec. 7 at the LBJ Washington Center. Dean Angela Evans and LBJ Washington Center Interim Director William Shute addressed the intimate ceremony for family and friends.
Lloyd Hand, senior counsel in the government advocacy practice at the law firm of King & Spalding, delivered the keynote speech. Hand, who provides counsel to U.S. Fortune 500 companies, foreign governments and institutional clients, began his career in government in 1957 as assistant to Senate Majority Leader Lyndon B. Johnson. He became U.S. chief of protocol, bearing the rank of ambassador, when Johnson entered the White House.
Salimah Jasani, received her MPAff-DC degree, was chosen by her classmates to deliver the LBJ DC Fellow Address. "I'm honored to be selected as the student speaker for the DC cohort graduation. My experience in DC has been unforgettable!"
This latest class of graduates from the LBJ School heads out into a policy arena that will benefit from their training, experience and commitment, Shute commented. "For some time now there has been a growing anxiety about the future of our nation, perhaps rightfully so," he said. "If this group of LBJ graduates is any indication, the future of our democracy is in good hands."
In the DC Concentration, the LBJ DC Fellows completed an accelerated program of study and work that required them to spend two consecutive semesters studying in Austin before moving to Washington, DC for two additional consecutive semesters. During their DC sequence, they took classes while at the same time working for 32 hours per week in Policy Apprenticeships at leading public and private policy organizations around the nation's capital.
Congratulations, graduates! We wish you all the luck in the world.
The graduates:
Melissa Bellin

Master of Public Affairs

Policy Apprenticeship: Education Trust
Emily Clark

Master of Public Affairs

Policy Apprenticeship: Office of U.S. Rep. Joaquin Castro (D-TX)
Salimah Jasani

Master of Public Affairs

Policy Apprenticeship: Office of the Speaker of the U.S. House of Representatives
Megan Kruse

Master of Public Affairs

Policy Apprenticeship: The College Board
Abby Marcus

Master of Global Policy Studies

Policy Apprenticeship: World Learning
Timothy Michalak

Master of Public Affairs

Policy Apprenticeship: Partnership for Public Service
Emma Nye

Master of Public Affairs

Policy Apprenticeship: U.S. Department of Health and Human Services
Cara Pavlak

Master of Public Affairs

Policy Apprenticeship: American Immigration Lawyers Association
Sara Plasencia

Master of Public Affairs

Policy Apprenticeship: Education Trust
Christopher Purdy

Master of Public Affairs

Policy Apprenticeship: Human Rights First
Brittney Taylor

Master of Public Affairs

Policy Apprenticeship: Office of U.S. Rep. Danny K. Davis (D-IL)
Sean Walker

Master of Public Affairs

Policy Apprenticeship: Sandy Hook Promise